Saint-Antonin-Noble-Val. 8 November 2011: Digital Television
Tous au Numérique!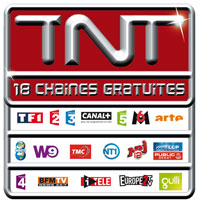 The transition on November 8, 2011 to Digital broadcasting on all channels is the end of the current channels that are received via a standard antenna ('TF1', "France 2", "France 3", "Canal +", "France 5 "/" Arte "and" M6 ") and the replacement of the analogue to digital TV broadcasting (DVB-T or TNT). This brings about 20 new channels available in high quality.
In the Region Midi-Pyrenees the conversion to digital broadcasting is taking place on 8 November 2011. Primary channels will be replaced overnight, the smaller transmitters will be replaced on 8 or 9 November. Depending on the situation before, you may need some changes.
VIDEPC can guide you through the options and can advise you on the choices which can be made and the materials which are required and must be purchased, like a satellite dish, receiver, decoder, satellite receiver, etc. Advice is always free (so feel free to call), any work we will charge you for of course.
Some possibilities:
1. At the moment you are receiving the analog channels on your old tube TV with a roof antenna or indoor antenna. These TVs are normally not suitable for receiving digital channels. If you are not planning to change your TV, you must purchase a separate digital TNT-receiver for the 'terrestrial' channels (TNT terrestre). It can be connected to the normal antenna. On the TV however a scart (peritel) connection or any RCA (audio and video) connection must be available on the TV to connect both devices.
However, using a new (flat screen) TV, the digital receiver for TNT is built in and you can watch the French channels directly, even in HD.
In all cases the new digital channels have to be installed in your TV. The old channels will be on "gray".
If you already have digital reception (presumably from the transmitter "Pic du Midi, which has already passed), then a few channels will change, so again on November 8 you will have to install your channels again in your TV.
If your reception of digital channels is impossible or very bad while the analogue reception always has been good, then it is likely that your antenna system has tuned amplifiers, especially for the old channels. These have to be replaced.
2. At the moment you receive French TV via an analogue satellite receiver (satellite: France Telecom or AB3). This receiver has to be replaced by a digital TNT satellite receiver. Here are two options: you are watching via satellite AB3 in which case you need a digital receiver from FRANSSAT. It is advisable however to move the dish to Astra 1, in which case you will need a digital receiver from TNTSAT. Besides the French channels you will receive the free channels on ASTRA 1.
It is also possible to choose a receiver with HD. But always take care that you buy a satellite receiver that is suitable for the appropriate satellite.
3. In the case that you receive the French Canal + channels, you must have your decoder card in the TNT satellite receiver to be converted by Canal + for the receipt of the Canal + channels. Old analog set-top boxes are no longer useful.
4. If you're using your own digital satellite receiver for watching TNT at the moment, you will not have to take any steps. This also applies to the satellite receivers of Orange and SFR.
Some misunderstandings:
The decoder card for TNT satellite is normally included in the purchase of the receiver. There is no subscription. The card expires, however, depending on the provider. Occasionally € 15 has to be paid for the renewal of the card (usually for a period of approximately 5 years).
There is no difference between an analog or digital antenna. Normally you do not have to replace your antenna.
There is no difference between an analog and digital satellite dish. Also the dish does not have to be replaced.
The old differences between the PAL and SECAM TV systems have lapsed. You can watch any digital channel on your TV .
The reception of digital channels is usually better than analog. Usually you receive the digital channels, or not. In the case that blocks appear in the picture you are just on the edge of the possibilities, but mostly it is a matter of whether or not receiving. Also reflections from surrounding objects disappear and the picture is really sharp. Of course for a good reception it is recommended that your aerial installation is checked so that you will have the best reception under all circumstances.
You will only receive HD channels with an HD receiver and also only when (in the case of a separate receiver) it is connected with the special HDMI cable. In this case, use of a scart cable will directly reduce the quality and it will be comparable to a standard reception.
A British or Dutch satellite receiver is NOT suitable for TNT because it works with a different encoding system (Viaccess). Some receivers are suitable for several cards though, in which case an optional CI module has to be installed. In this case, the Viacess CI module with a decoder card have to be bought and must be installed in the satellite receiver. Remember that the British satellite is the ASTRA 2, which does not have any French channels.
More information (in French) at: http://www.tousaunumerique.fr/ou-et-quand/ma-region/region/midi-pyrenees/ and for "Canal +": http://www.canalplusennumerique.fr/
The present TNT channels:
R1: France 2, France 3, France 5, France Ô, La Chaine Parlementaire, chaîne locale (France 3), ARTE
R2: Direct8, DirectStar, Gulli, i>TELE, France 4, BFM, Virgin17
R3: CODED: Canal+, Planète, Canal + Sport, Canal + Cinéma, TPS Star
R4: M6, W9, NT1, Arte HD; CODED: Paris Première
R5: TF1 HD, France 2 HD, M6 HD
R6: TF1, NRJ 12, TMC; CODED: Eurosport, LCI, TF6
---